Jaap-Henk Hoepman: Privacy Is Hard And Seven Other Myths
March 20 @ 12:00 pm

-

1:30 pm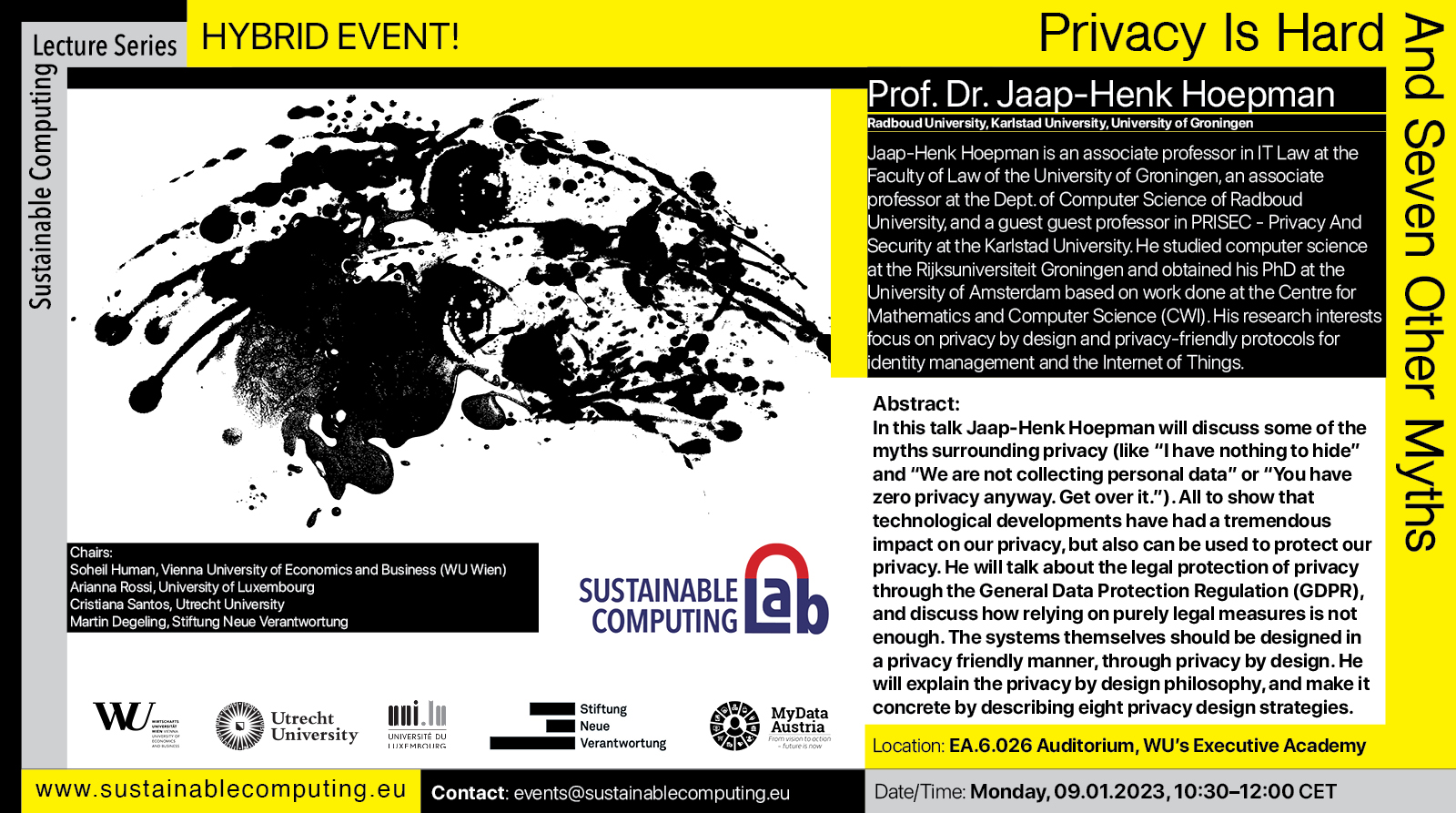 Title: Privacy Is Hard And Seven Other Myths
Speaker: Prof. Dr. Jaap-Henk Hoepman
Radboud University, Karlstad University, and University of Groningen
We invite our colleagues who are in Vienna to participate in the talk on WU Wien's campus.
If you like to join the lecture online, please contact events [at] sustainablecomputing.eu for a link.
Date/Time: Monday, January 9th, from 10:30 — 12:00
Location:
WU's Executive Academy EA.6.026 Auditorium
Map: https://campus.wu.ac.at/?campus=1&q=EA.6.026
Address:
EA.6.026 Auditorium
WU Executive Academy, 6th floor
Vienna University of Economics and Business (WU Wien)
Welthandelsplatz 1, 1020 Vienna, Austria
Abstract:
In this talk Jaap-Henk Hoepman will discuss some of the myths
surrounding privacy (like "I have nothing to hide" and "We are not
collecting personal data" or "You have zero privacy anyway. Get over
it."). All to show that technological developments have had a tremendous
impact on our privacy, but also can be used to protect our privacy. He
will talk about the legal protection of privacy through the General Data
Protection Regulation (GDPR), and discuss how relying on purely legal
measures is not enough. The systems themselves should be designed in a
privacy friendly manner, through privacy by design. He will explain the
privacy by design philosophy, and make it concrete by describing eight
privacy design strategies.
Bio:
Jaap-Henk Hoepman is an associate professor in IT Law at the Faculty of Law
of the University of Groningen, an associate professor at the Dept. of Computer
Science of Radboud University, and a guest guest professor in PRISEC – Privacy
And Security at the Karlstad University. He studied computer science at the
Rijksuniversiteit Groningen and obtained his PhD at the University of Amsterdam
based on work done at the Centre for Mathematics and Computer Science (CWI).
His research interests focus on privacy by design and privacy-friendly protocols for
identity management and the Internet of Things.

Onnline:
Please contact events [at] sustainablecomputing.eu for a link.
On campus:
WU Wien, D2.2.094
https://campus.wu.ac.at/?campus=1&q=D2.2.094
More info (requesting a link to the online call): events [at] sustainablecomputing.eu
Sustainable Computing Lecture Series
Chairs:
Soheil Human, Vienna University of Economics and Business (WU Wien)
Arianna Rossi, SnT, University of Luxembourg
Cristiana Santos, Utrecht University
Martin Degeling, Stiftung Neue Verantwortung